Join MAST for a Bike to Work Week Kickoff Event at Railroad Square in Keene on Monday, May 15 from 6:00 to 10:00 a.m!
Individuals are invited to ride their bike (or walk, carpool, or take the bus) to work that day. Stop by Railroad Square to enjoy free coffee, bagels and other breakfast items, socialize with other alternative transportation advocates and organizations, and learn more about bicycling and alternative commuting in the Monadnock Region.

Businesses and organizations interested in sponsoring this effort, by donating prizes or breakfast items, can contact Liz Kelly at lkelly@swrpc.org or 603-357-0557.
Monadnock Commuter Challenge
MAST is partnering with CommuteSmart NH to challenge commuters in the Monadnock Region to "commute smart" and travel via carpool, walk, telecommute, bike or use public transportation.  The Monadnock Commuter Challenge will be a week long competition that will take place during Bike to Work Week (May 15 – May 19).  Participants log each smart commute using the online trip logger and compete with other individuals to win prizes.  Sign up for the challenge at MAST's Bike to Work Week Kickoff Event or online at www.commutesmartnh.org.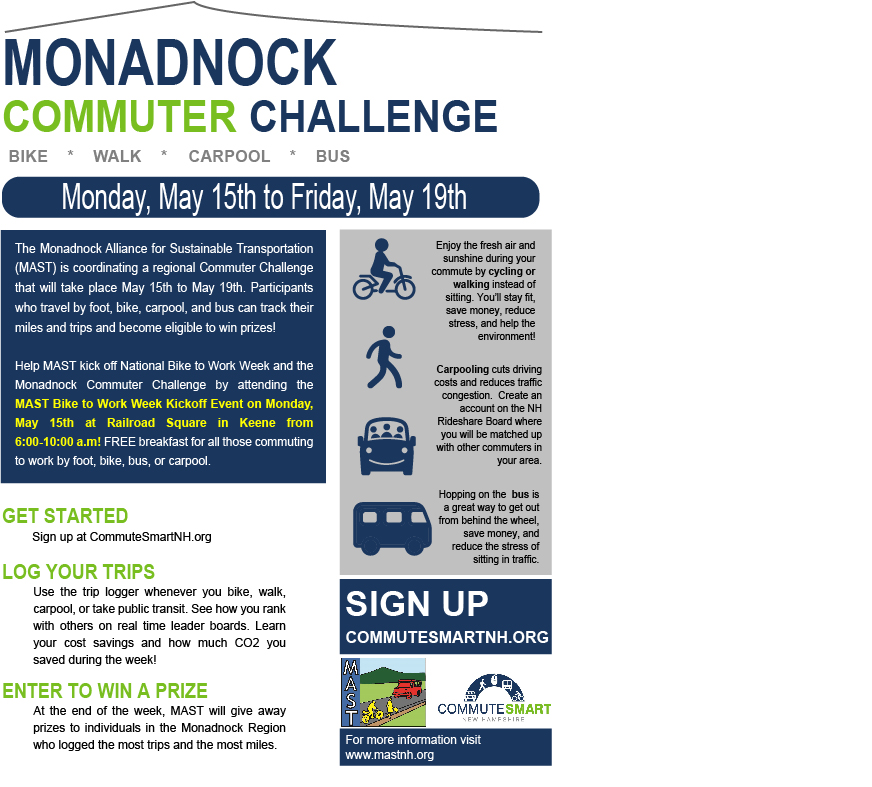 Benefits of Bicycling
National Bike Month is a time to focus on the impressive benefits of commuting by bicycle –from individual health to community wealth.  According to the League of American Bicyclists:
The average person loses 13 pounds of weight during their first year of commuting by bicycle.
A daily 4-mile bicycle commute saves about 66 gallons of fuel per year.
A study in Bern, Switzerland found that Main Street businesses made more profit per square meter of bike parking ($9,900 per year) versus car parking ($8,800).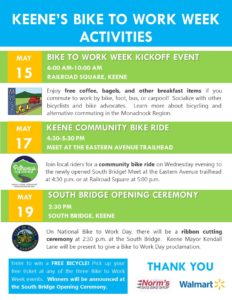 To download a PDF version of the flyer, click here.
Thank you to our current sponsors and partners!
City of Keene
Elm City Bagels
Healthy Monadnock
Monadnock Buy Local
Monadnock Food Coop
New Day Bodywork and Massage
Norm's Ski and Bike Shop
Pathways for Keene
Prime Roast Coffee Shop
Southwest Region Planning Commission
Walmart